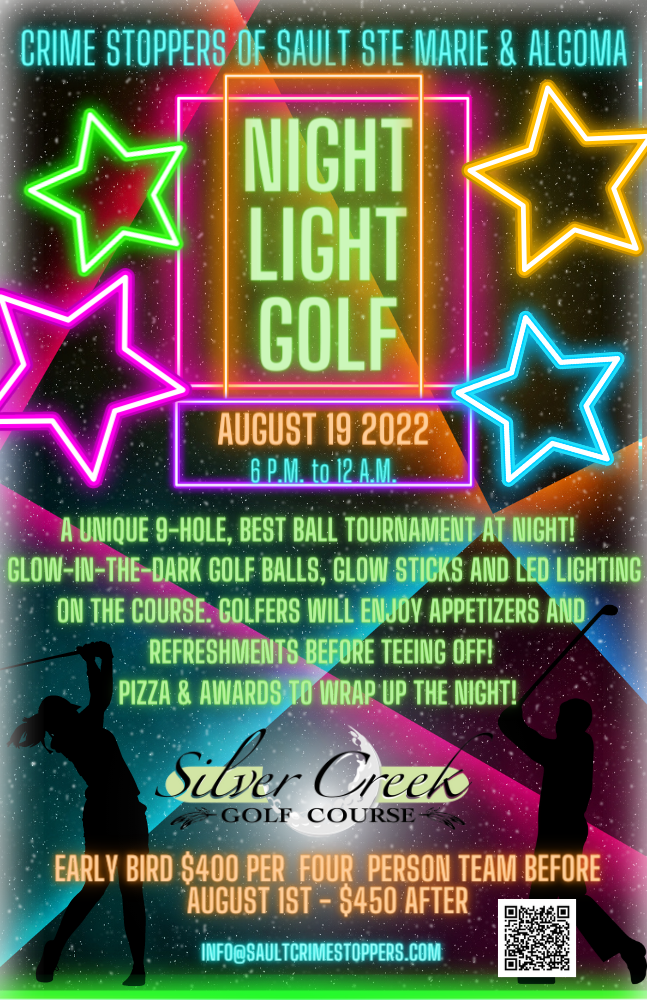 Night Light Golf Tournament at Silver Creek Golf Course
FRIDAY, AUGUST 19
$400 PER FOUR-PERSON TEAM
INCLUDES USE OF NIGHT GOLF EQUIPMENT (BRING YOUR OWN CLUBS), 9 HOLES OF GOLF - ENTRY IN TOURNAMENT - PRIZES - LATE-NIGHT SNACKS - CASH BAR ($)
SCHEDULE OF EVENTS
6:00 P.M. TO 7:30 P.M. – REGISTRATION & EQUIPMENT
7:30 P.M. TO 8:15 P.M. – FOOD & DRINKS
8:15 P.M. TO 11:30 P.M. – NIGHT LIGHT GOLF
11:30 A.M. TO 12:00 A.M. – PRIZES, AWARDS & PIZZA
---
REGISTER NOW! SPACE IS LIMITED!
Night Light Golf Online Registration
To pay by Cash or E-Transfer complete this form
NightLiteGolfRegistrationForm.pdf
E-Transfers can be sent to info@saultcrimestoppers.com using the answer: Stopcrime
Cash, or cheques and completed forms may be submitted to the Crime Stoppers office via email to info@saultcrimestoppers.com, or by drop off at the front desk of the Police Services Building, located at 580 Second Line East.
**FORMS & PAYMENT MUST BE SUBMITTED BY THURSDAY, AUGUST 12th TO ENSURE TEAM RESERVATION IN TOURNAMENT. CANCELLATION MUST BE REQUESTED AT LEAST 72 HOURS PRIOR TO THE REGISTRATION DEADLINE OR PAYMENT WILL NOT BE REFUNDED**
---
Sponsorship Package

2022NightLiteGolfSponsorshipPackage.pdf